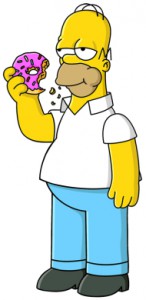 The Ten Commandments are about love. Loving God and loving your neighbor. Working for the good of God's ways and working for the good of your neighbor.
The First Commandment.
"I am the Lord your God, who rescued you from the land of Egypt, the place of your slavery.
"You must not have any other god but me."
We notice immediately God emphasizes freedom. We worship a God who sets free and delivers from bondage.
So, if you don't want that God what god would you choose?
Something that brings you back into bondage again?
Who would want that god?
The god of bondage?
Homer Simpson said, "Alcohol is the cause of and solution to all of life's problems."
Well today this sounds like politics.
In the mainstream world today, everything is politicized. As if politics is the center of the world.
Or, 'politics is the cause of and the solution to all of life's problems.'
No, actually politics is bondage. Trying to seek solutions to the world's problems using human means. Good luck on that. If we choose not to follow God and his agenda, we are left with the bondage to relying on humanity to save us.
Your god is simply that thing you place the most trust in.
Martin Luther said it this way.
"We should fear, love, and trust in God above all things."
Your God is that which you focus on, that which you rely on. If you trust in anything other than God, your god simply doesn't have enough power.
Sorry to have to tell you this, but President Trump is not the Messiah and he's not the Antichrist.
He doesn't have all the answers and neither do those who would "Resist" him.
Even though our media and our universities are working full time to convince us that they have all the answers, they know what's best for us, this is worshiping a false god. We have to "Just say no."
In today's world we have to say "No" to the false power we attribute to our political agendas in order to say, "Yes to God."
But, why do I have to say no to other things to say yes to God?
We can't believe 2+2=4 and that 2+2=5 is also correct.
We can't say God creates us, rescues us and empowers us, and then at the same time believe some other power does these things, as well.
God demands we love him alone.
And if we choose any other God other than the LORD our God, this will not only destroy us, but our neighbor will have to pay.
Beginning with the closest, most intimate neighbor. Our own families. The next passage of Exodus 20, after the first commandment, explains.
"I, the Lord your God, am a jealous God who will not tolerate your affection for any other gods. I lay the sins of the parents upon their children; the entire family is affected—even children in the third and fourth generations of those who reject me. But I lavish unfailing love for a thousand generations on those who love me and obey my commands."
That seems clear to me. God specifically comes as Jesus to carry out his mission to rescue and restore the world.
Logically, it makes sense to follow Jesus. It makes sense to pass down his message and model it for the next generations. There may be other ways to know the things of God other than through Jesus, but, what if I'm wrong? I may have just screwed up  the life of my kids and their kids.
Practically it makes sense to follow Jesus. Just take the Christian worldview and live out any part of it. Don't take revenge, for instance. Or, work for the good of your enemy the way Jesus would if he were you. Work to relieve innocent suffering.
You see, Christianity matches reality better than any other religion or philosophy when it is actually practiced. Go ahead and try other ways if you must. But, if you are open enough and honest enough, you will always end up with the truth of Jesus.
But, if I don't surrender my life to God's ways, and don't really attempt to seek him, there will be hell to pay. Hell to pay for me and hell to pay for the rest of you.
The first commandment.